Features that Streamline Resident Management & Menu Planning
No IT dept? No problem.
Designed as a subscription web-based SAAS (software as a service) solution, RDS eliminates the need for in-house technical expertise. Its intuitive design and user-friendly interface make it a snap to get your staff up and running. But rest assured, it's powered by the latest technology and backed by industry-standard data security protection. Data is stored securely in US and Canadian data centers, ensuring that your resident information remains solely within the country that your facility is located.  
Connected. Automated. Advanced.
Resident Dining Solution is a cost-effective and feature-rich solution that can deliver the kind of automation functionality which was previously exclusive to larger acute care facilities. With advanced integration capabilities, RDS has the distinct capability to import data from Computrition's prominent Hospitality Suite solution. Back up your data to the cloud with the peace of mind that comes with end-to-end encryption, a secure infrastructure, and HIPAA-compliant technology.
Putting residents first.
With RDS it's easy to electronically maintain vital food and nutrition information including tray cards, tray tickets, nourishments, allergies, likes, dislikes, calorie counts, tube feeding, guest trays and feeding assistance devices. Special features allow for holiday treats and last-minute menu changes. And flexibility in managing menu selections makes it a lot simpler to get the right meal to the right person at the right time.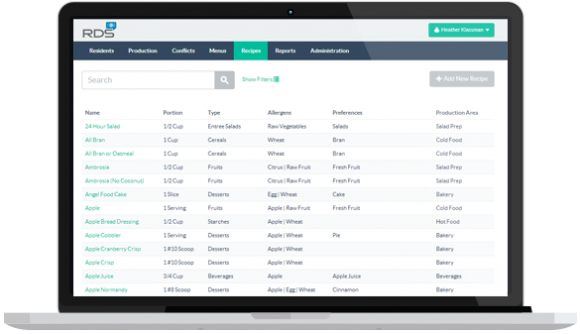 Easy & Intuitive
No internal IT staff required
Navigate with ease
Simple menu and nourishment management
Clean meal plan view
Print on any standard paper
Access from most modern devices
Powerful & Secure
Role-based access
Secure infrastructure
End to end encryption
HIPAA compliant
Backed up to the cloud
U.S. and Canadian data centers
Mobility & Advancement
Tableside menu selections
Access from a tablet
Increase resident-staff interaction
Obtain menu selections closer to meal times
Maintain Vital Information
Diet orders
Allergies
Meal preferences
Likes and dislikes
Feeding assistance
Dining and seating assignments
Resident images
Adapt & Accommodate
Create custom menus
Arrange holiday and special event overrides
Respond to resident feedback and preferences
Automate last-minute menu changes and production tallies
Powerful Reporting
Tray cards and tray tickets
Nourishment labels
Resident census data
Menu calendar and spreadsheets
Production guides
Assistance & Support
Training expertise
Support staff, if needed
Web based training tutorials
Continuous product advancements