Advanced Foodservice Production Software
Let's face it, resident care dining is not what it used to be. As communities shift from manual processes to automated services, we saw the need to offer the next level to our standard RDS solution – RDS Elite. Helping you drive down costs while still improving the overall quality of nutrition, RDS Elite is designed specifically for senior living communities that require more advanced foodservice production capabilities.
Containing all of the same features as the standard RDS foodservice software, RDS Elite is a web-based solution that can help you to effectively manage the daily demands of your dynamic culinary operation.
With RDS Elite, foodservice leaders can confidently provide quality care while meeting their operational objectives regardless of shifting industry factors related to occupancy rates, food prices and regulatory nutritional guidelines.
Enhanced foodservice features and benefits include:
Manage Electronic Resident Records
Maintain all essential resident food and nutrition data such as diet orders, allergies, meal preferences, likes & dislikes, feeding assistance, meal schedules, dining and seating locations, nourishments, and resident images.
Streamline Foodservice Production
Automate menu selections and production tallies
Scale recipes to accurate production quantities
Conduct recipe and menu nutritional analysis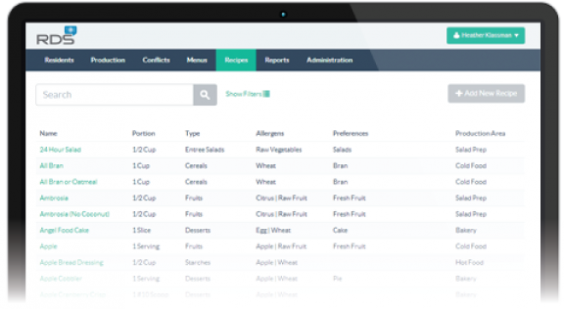 Advanced Reporting Capabilities
Examine detailed reports outlining pertinent resident data including tray tickets, nourishment labels, diet census and many more
Generate reports to analyze recipes, menus and items
Monitor production needs and purchasing requirements
Intuitive Alerts
Prevent harmful conflicts with food allergies
Control Food Cost & Waste
Eliminate overproduction by scaling recipes to production quantities
Manage recipe and menu costs
Adaptable Technology
Provide staff with software that acclimates between desktop or mobile devices
Need help deciding which features and modules are right for you, please call (855) 836-4717.