Features that Streamline Resident Dining and Foodservice Operations
Putting residents first.
With RDS it's easy to electronically maintain vital food and nutrition information including tray cards, tray tickets, nourishments, allergies, preferences, menu selections, guest trays, adaptive equipment and so much more. Special features allow for holiday overrides and last-minute menu changes. And flexibility in managing menu selections makes it a lot simpler to get the right meal to the right person at the right time.
Increasing resident satisfaction. 
RDS automates the tray card and tray ticket process by enhancing the management of individualized dietary and nutrition needs. With flexible dining and integration capabilities, obtain menu selections via tablets in advance or tableside for a restaurant style approach. With resident details visible on the same device and through smart icons on the selection screen, avoid offering foods to residents that are known dislikes. Most importantly, increase resident-staff interaction and food-focused conversations with a resident-centric offering.
Improving resident safety.
Easily view and maintain current resident diet information such as restrictions, modifications and fluid consistency. The RDS foodservice software is designed with built-in features for allergy conflicts ensuring residents are not offered and served food items that are allergens.  Additional features ensure critical information is verified, not overlooked  and highlighted appropriately on tray cards, meal tickets and comprehensive reports.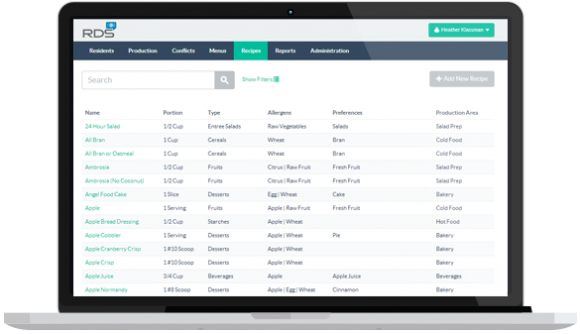 Electronic Resident Details
Diet orders
Allergies
Meal preferences
Likes and dislikes
Feeding assistance
Dining and seating assignments
Resident images
Nourishments and supplements
Recipes & Menu Planning
Build and scale recipes
Create custom menus
Arrange holiday and special event overrides
Respond to resident feedback and preferences
Automate cycle menu creation with Menu Extend
Menu Selections
Tableside or in room menu selections
Access from a tablet and wirelessly transmit orders to kitchen ticket printers with Order Ticket
Increase resident-staff interaction
Obtain selections on your own schedule - in advance or restaurant style
Smart icons communicate resident preferences
Production
Automate last minute menu changes
Resolve allergy conflicts
Generate production tallies 
Track serving and holding temperatures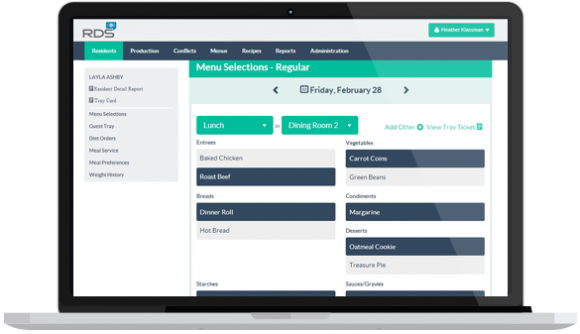 Items & Purchasing Options
Manage items, ingredients and inventory groups
Link to vendor product codes
Prioritize purchasing options
Manage package sizes and products
Compare case, unit and comparison costs
Generate purchasing needs for menu and census
Nutrient Analysis & Costing
Recipe and menu nutrient analysis
100+ macro and micro nutrients
Detailed breakdown of ingredient costs
Recipe costs and menu costs by diet
Cost reporting with meal and daily averages
Powerful Reporting
Tray cards and tray tickets
Meal selection forms
Nourishment labels
Resident census data
Menu calendar and spreadsheets
Purchasing Requirements
Production guides and many more!
Reducing Food Costs.
Eliminate overproduction by scaling recipes to production quantities based on actual resident selections or forecasting. With RDS reduce food waste by eliminating overproduction and preventing disliked food items from being served. Additional foodservice software features help manage ingredient costs providing critical recipe and menu costing information such as Price per Resident Day (PRD).  Quickly generate menu purchasing requirements to calculate the amount of each item to order based upon menu needs, resident selections and forecasting. 
Increasing Labor Efficiency.
The RDS suite of foodservice software solutions reduces the amount of time spent managing and sorting hand written tray cards, tray tickets and nourishment labels as well as the time spent tallying menu selections and manually scaling recipes and their ingredients to accurate quantities. Comprehensive features streamline communication between the individual obtaining resident selections and back-of-the-house foodservice operations while production reports such as pull/thaw sheets, menu scaled recipes and purchasing lists streamline operations.
Engaging Staff with Technology.
RDS automates repetitive manual tasks enabling employees to have more time to work on meaningful projects such as interacting and caring for residents. Spend less time behind a computer and more time on resident facing responsibilites to deliver a personal and high quality hospitality experience. Technology increases staff flexibility and mobility leading to heightened staff morale and engagement. By training staff on new foodservice software it demonstrates an investment in employee development and longevity. 
For assistance determining the features appropriate for your community, please call our team at (855) 836-4717 or submit your information on the Contact Us page.