03/20/17 - Resident Safety: A Critical Component in Foodservice Automation
When it comes to resident management and foodservice automation, resident safety is of the utmost concern. There are several variables that require tracking and management to ensure residents are served nutritious, safe and appropriate foods. It is critical that residents are served foods appropriate for their diet order - which often means following restrictions or texture modifications. In addition to managing diet orders, it is important that residents are not offered and/or served foods that are allergens. It is imperative that the right meal is delivered to the correct resident avoiding situations where a resident is served a meal intended for another individual.
The functionality available in Resident Dining Solution (RDS) and RDS Elite addresses the above concerns and increases resident safety in the following ways: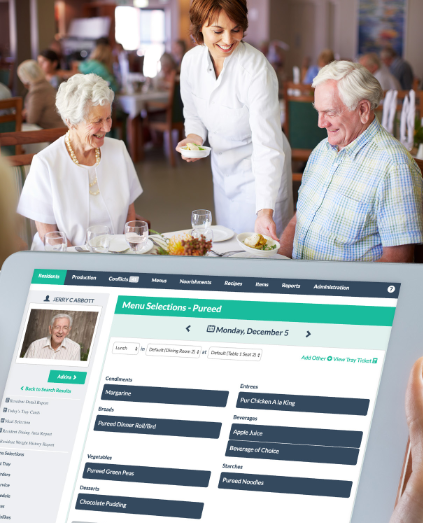 Diet Order & Fluid Consistency Management - Assign diet orders (restrictions and texture modifications) and fluid consistency to residents. Generate tray cards and/or tray tickets that communicate the resident's assigned diet order and consistency to the foodservice team ensuring the proper foods are being served to the residents.
Menu Type Assignment - Assign the appropriate menu to the resident based on his/her assigned diet order ensuring that only menu appropriate food choices are offered to the resident.
Allergy Conflicts - Generate allergy conflicts that prevent an allergen from being offered as a meal choice to a resident and notify the user to substitute the allergen with an appropriate replacement.
Resident Image - Upload a resident image that can be viewed while obtaining tableside menu selections to verify that selections are being obtained from the correct resident. Generate tray cards and/or tray tickets with the resident image to ensure staff delivers the tray to the right resident. The image functionality assists staff in avoiding situations where the resident is served an incorrect tray that may cause a choking hazard (due to improper food texture or fluid consistency) or an allergic reaction.
Dining/Seating Assignments - Manage where your residents are eating (dining room, table number and seat number) to deliver trays to the correct location and resident.
---
Learn more about our features and functionality by visiting the RDS and RDS Elite product pages.
Connect with us!